"As you know, beauty has one name: being thin. Our models are underweight, skinny, thin, bony – just like you. We want you. Regardless of the costs, we want you to join our agency. Let's face facts, on anorexic porn websites, men are masturbating watching your pictures. You are a superstar of starvation and if you were selling and marketing your frame you would be more wealthy than most of us because men would pay any price for watching those pictures."
Full Guardian article by Nicola Hobbs, The Guardian - Wednesday 6 April 2011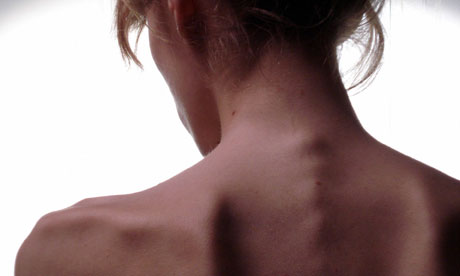 Below Commentary From

The AntiPornMenProject

BY EDDIE, ON APRIL 16TH, 2011
Last week the Guardian exposed a horrific example of how the porn industry keeps its 'edge' in the market. Well recorded in the porn industry is the continuous movement towards more and more hard-core, violent and degrading content. As time goes on what counts as mainstream porn becomes normalized in the quest for more shocking material making yesterday's extreme, today's mainstream. It is indicative of the capitalist model that traders in the market attempt to out-do each other to the next new and exciting product. This operates the same way in pornography.
'Super-skinny' porn sites are another example of this. Blatantly exploiting people who are unwell in order to feed an appetite for porn that is not only more shocking but that also strongly plays to the masculine obsession with dominance and control over women. Not only do those who suffer from anorexia nervosa often look younger they are also obviously weaker than the non-anorexic male porn performer they are shown with in porn. Women's comparative physical weakness to men is accentuated to the extreme in 'Super-skinny' porn. Not only does the industry move to more hard-core and violent ground, this new ground is often importantly about power and dominance over women.